Download ZIP
Pauser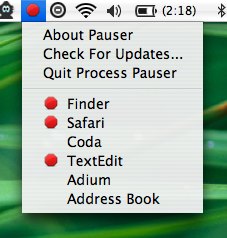 Pauser is a menu bar application that allows you to pause and then continue any process running on your Mac OS X user account.
Featured in Australian Macworld magazine (September 2007)
"Got an app that's sitting there consuming CPU time even when it's idle? Pauser allows you to pause a process - it literally halts computation for any app - and then resume it when you need it again. Perfect for apps like Word and Photoshop that chew a few per cent of CPU time even when they're not doing anything at all."
Features:
Pause/continue any process running in your user login.
Convenient, easy access status bar/menu bar access.
Automatic updating via Sparkle framework
Comments
Please submit any questions/bugs/suggestions using the form below - I like feedback.